Tips For Time Management When Planning Your Season
Tips For Time Management When Planning Your Season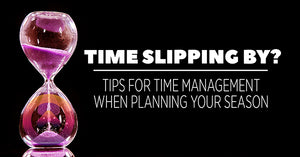 When preparing for each season of competition, there is a silent enemy that is never on your side. It's called time!
There is never enough of it and you can never get it back when you lose it. To ensure your students experience is top notch, we suggest a few things to help with your planning and production schedule for the indoor season. The longer the performers have the material, the better they will perform. The design team and staff will also be less stressed knowing they are set up for success. 
You should always start planing for indoor during the fall, or even summer. The sooner you do it, the more time you have to revise with better ideas. 
The benefit of purchasing a catalog show is to get it cheap, early, and complete. 
If you are going with a custom show, make sure you have given the designers everything they need to make your group successful. The advantage of having a custom show is being able to tailor a product specifically for your performers. Strengths, weaknesses, prop and uniform budgets, size of rehearsal space, number of members, etc... all of these things can be taken into account when designing for a specific group. 
Set a deadline to have all custom music done by January 1 to February 1, if not sooner. This will allow for ample time to clean and embellish the musical program as needed. 
Set a deadline to have the visual design, with most choreography on the floor by mid February to March 1st, at the latest. With most of the heavy lifting done, this will give you plenty of time to continue to develop choreography and clean it throughout the remainder of the season. 
When getting printed floors, expect about 2 weeks for shipping after art approval. You should order a month before you need it so the performers can get used to it for a couple of weeks.
When getting uniforms, expect about 6-10 weeks for shipping after design approval. If you want the biggest band for the buck on uniforms and be able to use them for every show, we suggest ordering around December 1. This will put you around February 1 for expected delivery. This will give enough time for alterations if needed. Every company is different, do your research.